The USA Eagles had their best performance at the Women's 15s Rugby World Cup in over a decade this past August. A blend of experienced players and young athletes attributed to the team's international success. We checked in with three of the Eagles post tour to learn more about their careers, World Cup experience, and see what's next. Next up is NOVA stalwart and Scion Siren, Abby Gustaitis.
Abby Gustaitis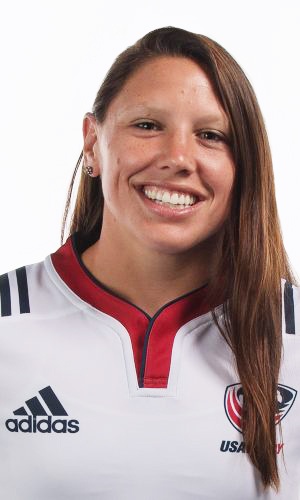 Hometown: White Hall, MD


Current team: Scion Sirens
Number of Caps: 15s - 7

Fun Fact: I grew up in the volunteer fire department and have been a certified EMT and firefighter for almost 10 years. My brother and I were sort of raised there with some of the other members' children and I've been away from it a bit between University and rugby. It's a big family environment and I know they're always supporting me.


---

How did you get into rugby?
I started playing rugby during my freshman year at the University of Maryland. I had never heard of the sport before college. I received a flyer in the dining hall and one of my friends asked me to go to training with her. I immediately fell in love with the sport and never looked back. Meanwhile, my friend didn't last a week.
They say it takes a village, and we know it does. What does your team history look like?
I started playing rugby at the University of Maryland then played a season with the Maryland Exiles for fun after graduating. I transferred to NOVA 15s to have more opportunities to play and develop as a player. I played one season with NOVA 7s before becoming a resident for the USA 7s team in 2015. After returning to the east coast, I've played for Scion 7s and NOVA 15s.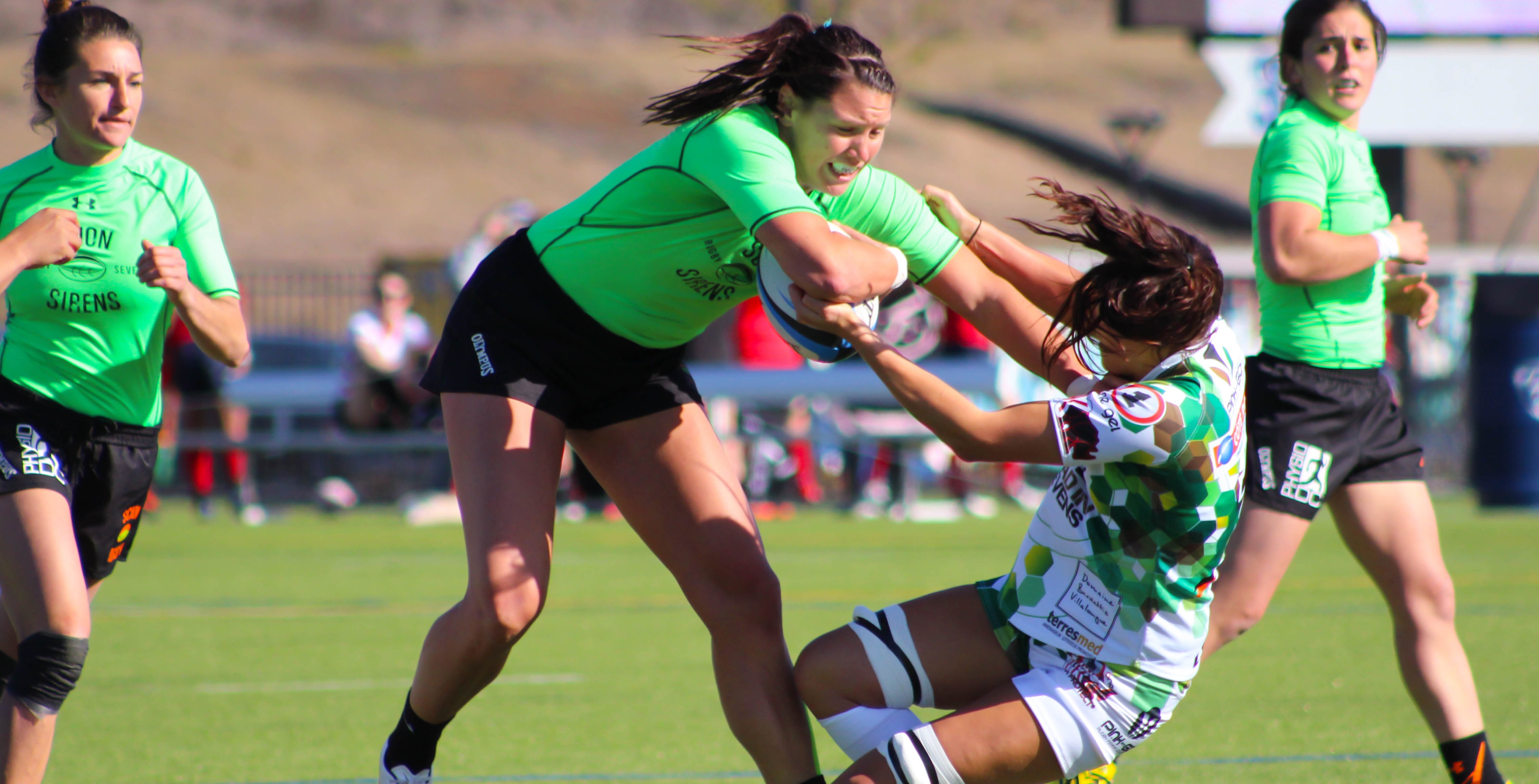 Abby fending off a defender playing with Scion Siren 7s. Photo by Abby Gustaitis.


This was your first World Cup (congratulations again, btw). What was your favorite individual moment on tour? What about your favorite team moment?
It was such an incredible experience all around from the high level competition to the sight seeing to my teammates, etc. I don't think I can pick just two moments that were my favorite. One of the most exhilarating moments for me was the last play of the England match. I remember Kayla was the halfback and we noticed there were two defenders on the weak side so she gives me the ball to attack and I just said out loud, "oh s***". We managed to get the ball back in Kayla's hands with Kris supporting her on the inside. And watching Kris swerve through the England defense to the try line was absolutely incredible....as I attempted to support her from thirty meters behind. It was an amazing feeling knowing that as a team we gave ourselves the best possible shot to secure a spot in the semifinals.


Every athlete has someone or something that inspires them. Who or what in your life has made the biggest impact on your athletic career?

As a child, I was always with my cousin, Ashley. We were inseparable; always dressed alike and got into way too much trouble together. I think time outs were the only time we were apart and those never lasted very long. Growing up, I knew she had Cystic Fibrosis, which to me meant she had to take medicines everyday, get therapy from her mom and not go out in the cold as much as the rest of us...but otherwise things were pretty normal. Later on, I realized it is a terminal lung disease that progresses with age. It affects almost every organ in her body, makes her more susceptible to infections and difficult to absorb nutrients and maintain weight. In my rugby career, I have always played for her. Whenever I think I can't go any further, I just think of her. Ashley is the strongest woman I know and even though she isn't capable of pushing her body to the limits in sport, I am and so I do it for her. She gave birth to my goddaughter, Preslee, 4 years ago when every doctor told her she wouldn't be able to survive pregnancy. I now have my beautiful goddaughter to serve as a role model for. I strive to set a high standard for her and constantly remind her that she can do anything she sets her mind to. Meanwhile Ashley's going to keep fighting this illness and I'll be fighting right next to her and Preslee on the pitch.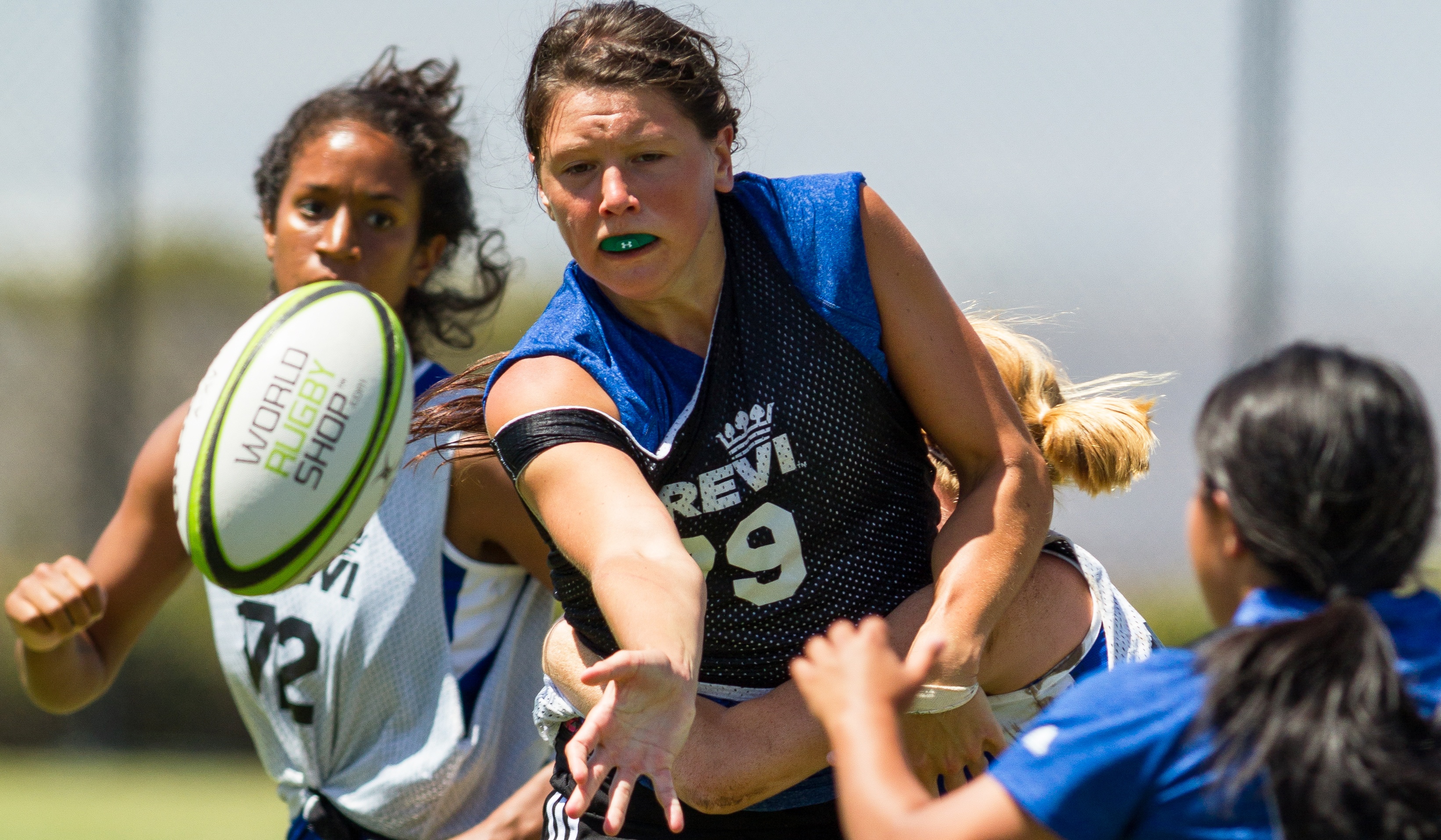 Abby offloads to a fellow Resident Camp teammate during an inner-camp scrimmage. Photo: Atavus Rugby.


We know you take your personal rugby development seriously. How has being exposed to the National Development Academy (NDA) and/or USA Rugby Academy coaches helped you prepare for competitive opportunities like the World Cup?


I attended a Serevi camp in 2014 where I was first introduced to the national team coaches and had insight into the daily lives of the athletes. It was an eye opening experience to train under the coaches and learn about the high performance environment. This opportunity helped me become the athlete I am today by teaching me to be a student of the game. It taught me to work hard but smile through the tough parts. The camp also served as a reminder that I play rugby because I'm so passionate about it and that includes each aspect of the game and training.

If you could give one piece of advice to your younger self, what would it be?
When I first found rugby, I would tell myself to play all the rugby I can and to be a student of the game. No matter age, experience, size or skill, I think everyone should play 15s, 7s, touch, etc. to become a better, well rounded player. Each version of the game offers different insight and skill work. I would also encourage younger me to watch more rugby, including myself playing as well as professionals.

What's next for you rugby wise?

I am currently in Australia playing and we just wrapped up the inaugural AON Uni 7's series. There were eight teams from throughout Australia and each is connected to a university. I am playing for University of Canberra alongside gold medalist Sharni Williams and Aussie 7s player Cassie Staples. The remaining Australian women's 7s players were split amongst the other teams. It has been invaluable playing with and against these incredible players each week. I am working to better myself as a player and play in these elite tournaments before returning to the States

.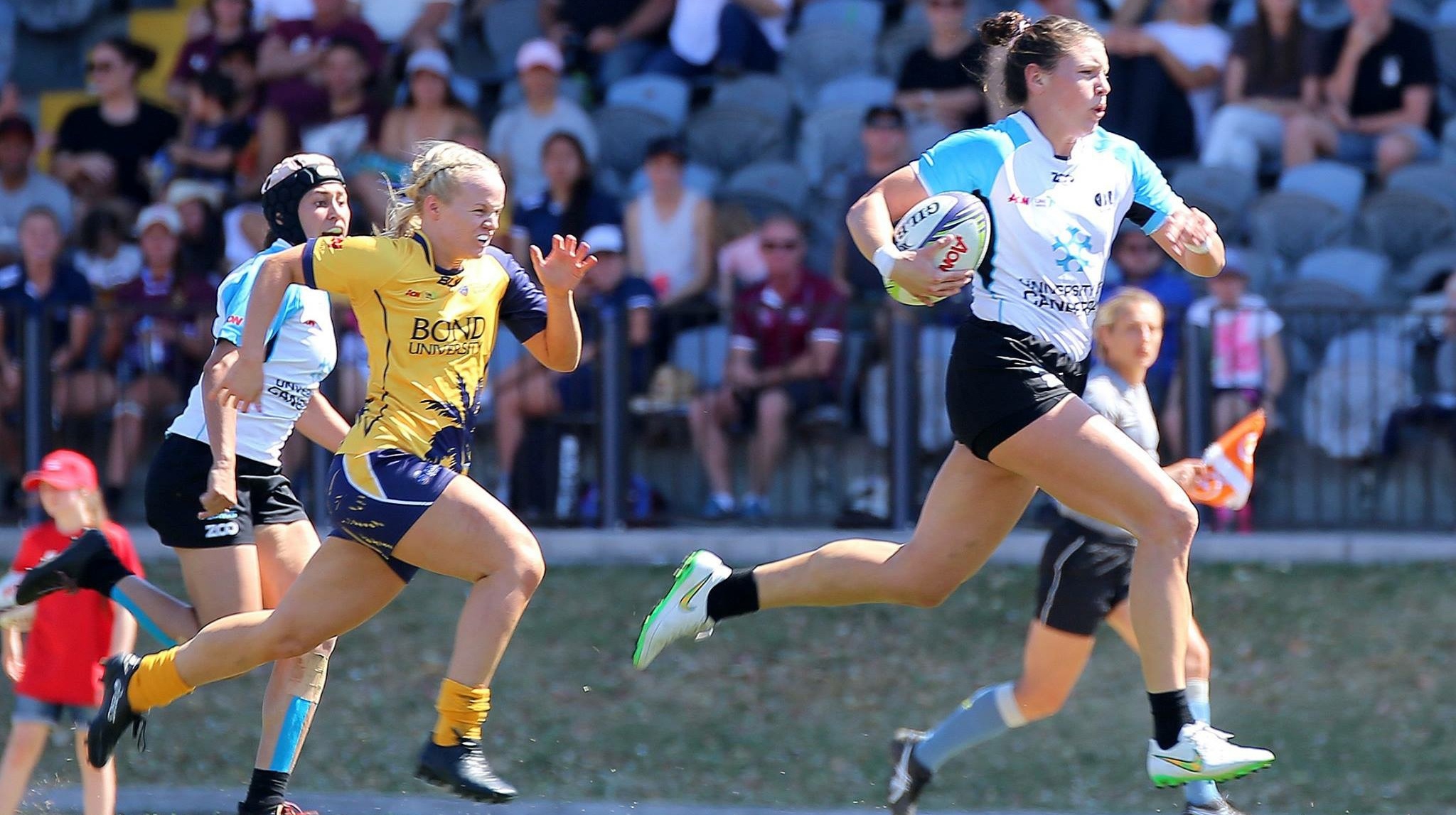 Abby making a break in the AON Uni 7's Series Tournament in September. Photo By Craig Dick.