The USA Eagles had their best performance at the Women's 15s Rugby World Cup in over a decade this past August. A blend of experienced players and young athletes attributed to the team's international success. We checked in with three of the Eagles post tour to learn more about their careers, World Cup experience, and see what's next. First up is Fallbrook Alumni and Penn State Nittany Lion Kayla Canett, who suited up as the youngest USA Eagle this World Cup.
Kayla Canett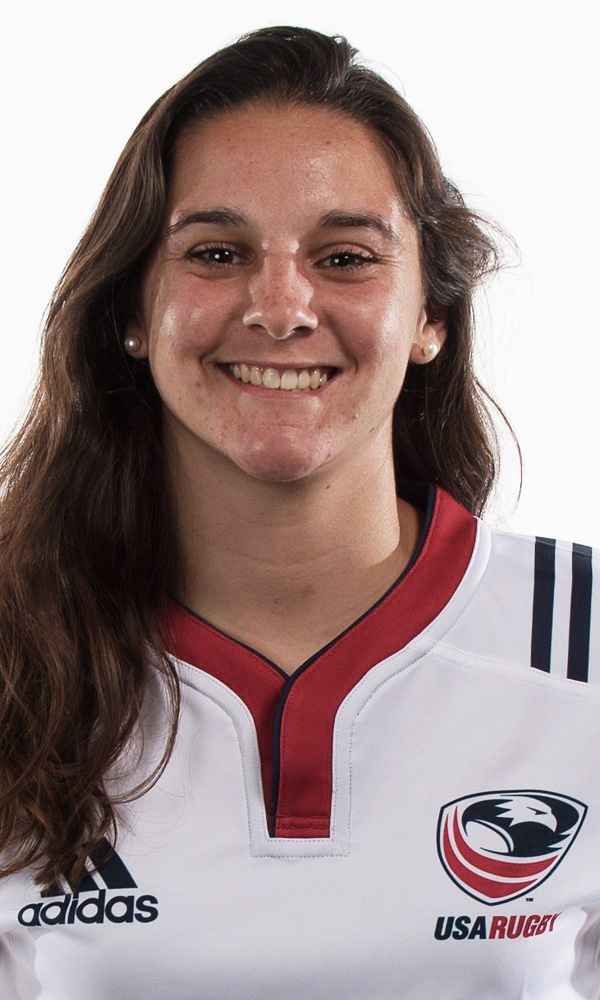 Hometown: Fallbrook, CA
Current team: Penn State
Number of Caps: 15s - 7 | 7s - 2
Fun Fact: Most people don't know that I played tackle football in 7th and 8th grade. People are usually surprised when they find out. I also love pranking people but I am unsuccessful most of the time.


---

How did you get into rugby?
When I was in 8th grade, one of the P.E. teachers at my school was the boys U14 coach and suggested that I give it a go. So I started going to touch on Sundays and then ended up signing up and haven't looked back since.
They say it takes a village, and we know it does. What does your personal team history look like?
I owe a lot to Marin and Craig Pinnell my coaches from my U14-U18 club team. They have instilled an incredible environment with the team. They taught us the basics and made us one of the best in the nation by prioritizing them. With all the tools they gave us, we were able to be our own team out on the field,

get creative,

and ultimately be successful. We also expected a lot out of each other on the field. I want to thank Megan Pinson, Richelle Stephens, Casey Karl, and Lilly Durbin among others for really pushing me from the beginning and wanting me to be the best me. I wouldn't be who I am today without them.

Another very influential coach for me is Emilie Bydwell. She's seen me grow from the very beginning, pretty much. I remember at the Las Vegas tournament in 2014, she coached me on the Serevi Selects team. She told me something that weekend that has stuck with me throughout the years, she said "you're the glue of this team". Since then, I've always worked hard to be a leader and someone that people can look to on the field for guidance and trust me out there. She's believed in me and has been there through it all. She's given me a lot of great advice and been there with me for some of my favorite moments in my career. I've also played on a few Atavus All-Stars, Southern California All-Star team, and with the Girls High School All-Americans for both 7s and 15s .

Most recently I began my college career at Penn State and I've had an incredible time so far. I was welcomed right away and was trusted amongst my teammates. My growth as a player accelerated playing with this team and playing alongside Gabby Cantorna and Tess Feury. I'm not sure if they know it or not, but I look up to those two a lot. They've pushed me day in and day out and I'm lucky I get to take the field every weekend with them by my side. Meya Bizer was my mentor last year at school and she's just such a legend. She would keep me accountable and always would give me feedback. I would go to her for any questions or concerns about pretty much anything, she helped me heaps throughout the year and was a strong support system for me.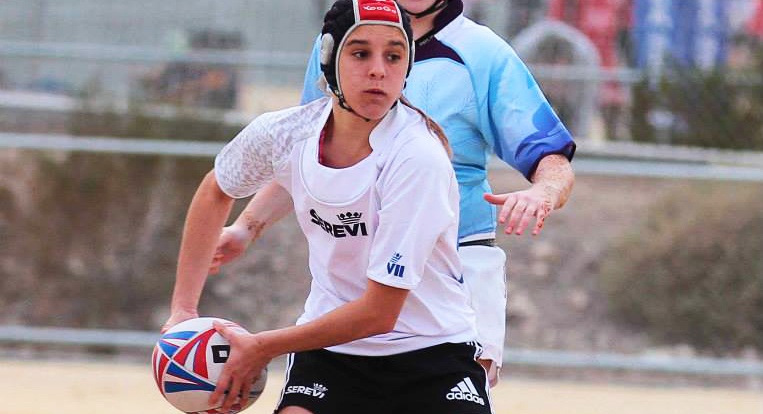 Canett playing for the Girls Serevi Selects at the 2014 Las Vegas Invitational 7s Tournament. Photo by Atavus Rugby.


This was your first World Cup (congratulations again, btw). What was your favorite individual moment on tour? What about your favorite team moment?
I think my favorite individual moment was after our first jersey ceremony when I got back to my room. I was holding my jersey and just couldn't believe it was all happening. A year ago I would've never guessed I'd be in Ireland about to be playing in the World Cup. I'm actually getting goose bumps now just thinking about it. It just meant so much to me to be able to have this opportunity with this team. Also seeing my mum and sister in the stands after the France game was a very special moment for me.

My favorite team moment was lining up against the Haka in our semifinal match against New Zealand. It was definitely one of the coolest things I've experienced. Tiff and Richie talked to us before about how we were going to go about facing the Haka. When we walked up to the 10m halfway through it and the crowd roared I got instant chills. It was an incredible moment and to be able to be side by side with my team and know that I had their support and they had mine just brought us a lot closer I think. When walking off the field after Abby, Kristine, and I were just in awe and got really hyped for the game.

We also we made a music video to Kelly Clarkson's "Since U Been Gone," I think we all got it stuck in our heads and it was definitely a highlight of everyone's trip when the video was released. Maybe Kate Zackary will release the video to the public haha

Kayla after receiving one of her two USA 7s jerseys. Photo: Kayla Canett

Every athlete has someone or something that inspires them. Who or what in your life has made the biggest impact on your athletic career?

By far my family is my biggest support. My mum, dad, and grandma have believed in me the whole way. They are at every game they can be and are my biggest fans. I couldn't do it without them and their love and support. But the person that has had the biggest impact on me is my best friend Lilly Durbin. We are like two peas in a pod and on the field there's something special between us that I can't quite put words to, but it's the best feeling having her beside me. She has been the constant factor in me pushing myself. When we were in high school we would have soccer practice and then go to rugby. We did everything together and were always trying to be the best that we could be. Whether it was in sprints (she would always beat me haha) or passing/handling, we were always having a friendly competition between each other and I think that kept the fire inside of us to keep working hard. She has believed in me when I couldn't believe in myself and that's something I can never thank her enough for.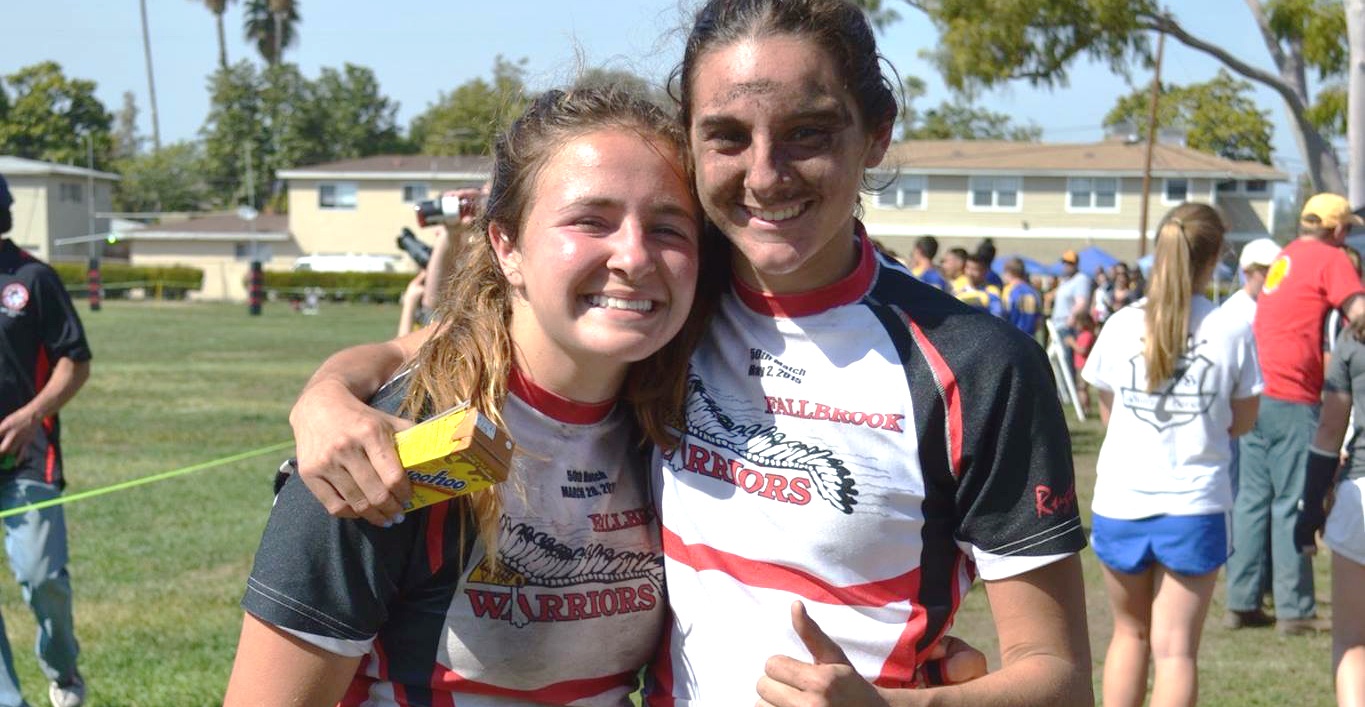 Canett with former Fallbrook teammate Lilly Durbin post match. Photo: Kayla Canett

We know you take your personal rugby development seriously. How has being exposed to the National Development Academy (NDA) and/or USA Rugby Academy coaches helped you prepare for competitive opportunities like the World Cup?


In my second year of playing, I began to get involved with Serevi, now Atavus Rugby. Emilie Bydwell was mainly the coach I worked with and pushed me from a young age to work hard and just always expected my best. It's that work ethic that was instilled into me that I carry into my training today. I went to a few camps when I was younger and always learned something. It helped my knowledge of the game grow every time. Plus, I met a lot of people through the camps and tournaments and it's always fun knowing someone and getting to see each other again after a camp. I think one of the reasons for my success is I was able to play a lot of rugby so I learned the game quickly. Going to camps and the tournaments made my vision and knowledge of the game grow. Because I love the game so much, I'm almost always practicing something or playing and so Atavus and USA Rugby Academy programming really played into aiding my growth as a player.

Left: Canett with her family at the CVEATC. Right: Canett at the 2014 USA Rugby Academy Powered By Serevi (Atavus) Girls High School Resident Camp. Photos: Kayla Canett


If you could give one piece of advice to your younger self, what would it be?
Hmmm...one piece of advice I would give my younger self would be to have fun, whether it is on or off the field, and just soak in every moment. I strongly believe that my success has come from my love for the game and always having fun out on the field. There's no point in going out there if you're not enjoying yourself and the people you're around. Some of my closest friends are from the rugby teams I've been on. I've played rugby for six-ish years now and never thought I'd get to experience all the incredible things I have. I've been all over the US, France, Dubai, Sydney, Wales, London and now Ireland because of rugby. It's important to not get too caught up in the moment and just take a step back and appreciate everything in it's beauty.

What's next for you rugby wise?

Right now I'm back at school and think I'll take a break from the USA 7s scene to focus on school for a bit. I've taken two weeks off of rugby, but I'm getting back into it with the Penn State team soon. I'm just looking forward to getting back into it and having fun out there with my mates. We don't have anything in the near future for 15s, so when that time comes I'll see how I'm feeling, but as of now I'll be taking a break from international rugby for a little.