Three-time World Cup athlete reflects on her inspiration heading into the 2017 Women's Rugby World Cup in Ireland.
In the fall of 1998, I attended my first rugby meeting. I was a clumsy, awkward kid just looking for a place to fit in. During that meeting a video was played that showed a rugby team battling for victory – I was immediately hooked.

The woman who presented the video was Jen Crawford; she played fullback in the 1991 Women's World Cup and was a member of the only U.S. team to bring home the championship trophy. Jen was my first rugby coach and has played an instrumental role throughout my career since that day.

Along with other players, Jen helped organize the 1991 Women's World Cup, an event that went unrecognized by the global gov­erning body of rugby. It wasn't until 1994 that the women's tournament was endorsed by World Rugby (formerly International Rugby Board). The U.S. has finished second twice in tournament history, once in 1994 and again in 1998, but hasn't been back to a final since Jen's 1991 team.

Almost everywhere I've played I've mentioned Jen. She's been pivotal in my development as a rugger and continues to motivate me as I continue my rugby career. In the spring of 2002, there was an opportunity for me and a few teammates to try out for the Pacific Coast All-Star Team. Jen was the one who informed and encouraged us to pursue that opportunity. I had wanted to be an Eagle for so long that I vividly remember standing on my college campus talking to my teammates, pronouncing with more bravado than confidence, that one day I was going to be one. And with hard work and Jen's guidance, I did just that.

In 2013, World Rugby officially endorsed the 1991 World Cup Tournament and this past June, USA Rugby inducted the championship team into the U.S. Rugby Hall of Fame. On July 1st, this team was honored at the Men's Americas 1 World Cup qualifier game. The induction stakes itself as a massive step forward for women's rugby in the U.S.

Since that first rugby meeting in 1998, I developed a deep love for this game and found a place where I fit in. Through ups and downs, I've learned many life lessons playing at every level throughout my career.

I am beyond excited for the chance to compete in my third World Cup for my country and extremely g

rateful for Jen, and those before me who, paved the road for women like me and my teammates so that we may pursue our dreams of bringing another World Cup trophy home to the U.S.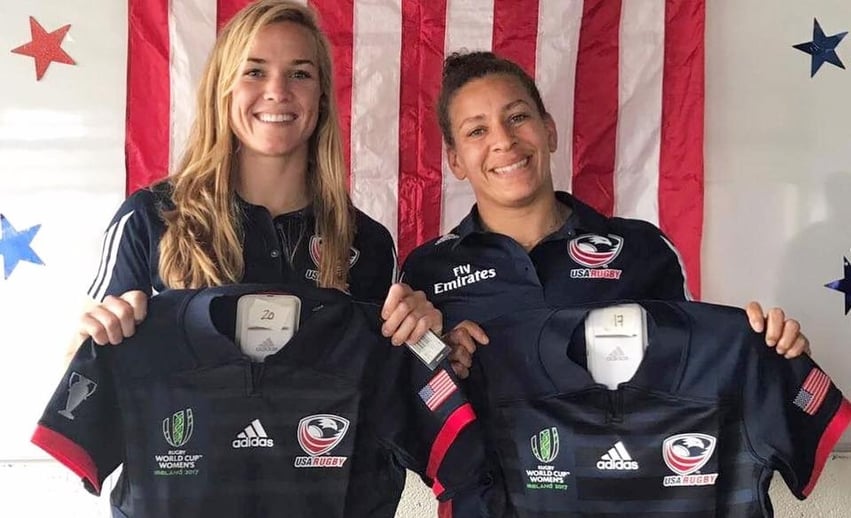 Naima Reddick (right) stands with her World Cup jersey with fellow Atavus Academy Athlete Kristine Sommer (left). This is Reddick's third World Cup appearance and Sommer's first. Photo by Naima Reddick.